No money? Make a wishlist! It'll feel like you're shopping without any of the spending money, or any of the having cool new stuff! Yeah, it sounds depressing, but for now it's the best I can do. Besides, it's fun to want stuff, right? Plus, maybe it will be good motivation for me to work harder at getting a new job…
Most of this wishlist this time is makeup, since there isn't a whole lot that I need or want fashion-wise right now. I have boots, heels, scarves, new jeans, tons of bras/underwear/socks/shirts/hoodies/jackets… and nothing trendy that I've noticed and fallen for recently. But there is plenty of makeup that's been slowly adding itself to my list over the last little while…
1. More Maybelline Colour Tattoo colours
Image from Eyemasq.wordpress.com
Basically, I adore the one i have (Bad to the Bronze) more than I thought possible before buying it, and now I want more colours.. Maybe Barely Branded, Bold Gold, or one of the blue or green coloured ones? *shrugs*
2. Peace & Love & OPI by OPI
Image from Swatchandlearn.com
This colour is simply gorgeous. It's like, multi-chrome and shiny and sparkly… I kinda just want it. A lot.
3. Lorac Pro Palette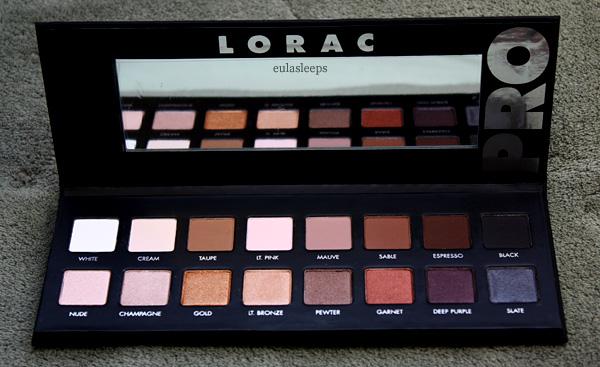 Image from En.paperblog.com
Everybody on YouTube raves about this palette, but especially Emily (emilynoel83 on YouTube), whose opinion I really respect. Plus, all the swatches and looks I've seen done with this palette just look so wonderful. I believe it's $55 Canadian from the Sephora site (I've never seen it in a store), but it comes with 16 shadows… though this palette has just over half the product of a Naked Palette, so I'm not sure it's worth the price…. As you can see, I'm still a tad conflicted.
4. Maybelline Vivids Lipstick(s)
Image from Beautezine.com
Not sure what colour, but Ania (annabellesmakeup on YouTube) raves about these all the time, and when I've swatched them in stores they always look so bright and pigmented and fabulous, so I'd love to try one out more seriously.
5. Revlon Super Lustrous Lipstick in Black Cherry (?)
Image from Pinkpineapple8.blogspot.ca
There's a question mark on this one, because, although I wanted this one since about the end of last winter, I think I may now have the same colour. Swatches online look a lot like my MAC lipstick in Hang Up… That said, I'd love to give it a swatch; if I remember correctly, there's also a really cool dark purple-y lipstick that I think is also Revlon. I'd have to try to swatch this one myself before making any decisions.
6. Gel liner
Image from Myeyeshadowconsultant.com
Not sure what brand. I have heard good things about the Makeup Forever Aqua liner, the MAC Fluidline, the NYX gel liner, and the Maybelline Master Drama gel liner. More research is required!
7. Katy Perry Killer Queen perfume
Image from Pausaparafeminices.com
I've honestly only smelled this one once, and I haven't fallen in love yet, but I did really like it. Also the bottle is so so pretty! The scent reminded me a bit of my favourite cheap/celebrity perfume, the original Paris Hilton one, since it's a bit floral-y, not super sweet, but also not super heavy.
***
So that's about all I can think of for now. Let me know what's on your wishlist in the comments. Thanks for reading!