Hey guys, just a fun post today to share with you some of the things I would love to receive this Christmas! I realise it's more than a month away, but I figure this post could also be used as inspiration for your own Christmas lists of as gift inspiration for someone you know! So, without further ado, let's get into it.
1. Pizza John Popsocket -- $12 USD
This one is really recent, and only available until November 18, when Pizzamas ends. If you don't know what the hell I'm talking about, you must not watch the Vlogbrothers, who are two of YouTube's biggest treasures, if you ask me! Pizzamas happens once a year in November for two weeks, and it's when John and Hank Green post a video every week day for two weeks, and at the same time, they sell a variety of Pizza John merchandise on their online store, DFTBA records. It's fun, and the original Pizza John design goes way back to 2009 from fanart made after John posted a video of him shaving his Movember beard. It's silly but it's pretty great.
Thus far, I don't own any Pizza John things, but for some reason this popsocket thing, which is a little collapsible device that sticks on to your phone and acts as a handle and phone stand, really appeals to me. And with shipping, it would cost about $20 CAD.
2. Moccasins from Manitobah Mukluks in Stone (Gray)-- $129.99 CAD
Especially in the Stone colour, I just love the way these look. There are two kinds, the leather and the suede, but they're both gorgeous. My friend has a pair I've tried and they're really comfortable, and I love the fringe on them! These ones aren't lined at all, so they can be worn even if it isn't cold, which I also like, since I overheat so easily. I don't know what else to say about them, except that it's really cool that the brand that makes these ones is Canadian, indigenous owned, and supports indigenous communities.
3. Urban Decay All-Nighter Foundation in .05 -- $49 CAD
I hate the way they've numbered these colours... I'm only half a colour...?! This seems offensive in some way... but anyways. I've swatched this foundation in store a few times, and the coverage is SO GOOD! It looks so natural and light on the skin, but provides great, beautiful coverage. It also doesn't feel cakey and thick like the Kat Von D, so I really want to give this stuff a go on my face. I'm sure I'd love it!
4. Foreo Luna Mini -- $119 CAD
No, I didn't specify the Mini 2, because I don't care which one, and since it's $40 cheaper, I'd happily take the original! I've tried face brushes before, though never the Clarisonic, and I feel they're just too harsh on my face, but this tool, with it's little silicone nubs intrigues me in a few ways. First, it's silicone, so it doesn't hold on to dirt and bacteria the same way a brush can, so it stays cleaner and better for your face. It's also much gentler feeling, the battery lasts ages, and it's super portable.
5. Gift Certificate to BodyArtForms.com
I mean, I'm not going to expect other people to pick the right gage and size and jewellery for me, since most people I know don't have any frm of body piercings. Besides, I have a big wish list of pieces I want for my septum, from simple hoops to fancier, showier clickers. If for some reason you'd like to see my current wish list on BAF, you can find that here.
6. My Gandalf rune tattoo -- ~$100 CAD
This seems like a weird thing to ask for as a gift, but essentially I'm just asking for ~$100 bucks to go and get my first tattoo done! Probably more like $115, since my tattoo will be small and quick, and $100 is the minimum charge, and I'd want to tip the artist. The above picture is essentially concept art, since I drew the rune on my shoulder in sharpie, which is pretty much how I have been playing with tattoo ideas for the last year or so. I want this rune because it is the symbol Gandalf uses in the Lord of the Rings to end his letters; this rune is essentially his signature. Basically, the rune is just a Cirth rune for "G", along with four dots around it.
Now why do I want to tattoo Gandalf's signature on my shoulder for all of time? Well, there are several things I love about this tattoo. 1. It's simple and iconic. 2. I love that you kinda need to know what it is to know what it is... if you get what I mean. It doesn't scream Tolkien or Lord of the Rings to a non-nerd, but a Tolkien fan would likely at least recognize it. 3. It's small, and should be a fairly easy first tattoo. Eventually I want a Dumbledore quote, probably on my leg, but that would be much longer and I'd love to know the pain I'll be signing myself up for before I jump into a longer quote. 4. Gandalf is one of my favourite characters of all time. He's good, wise, smart, caring, interesting, and ancient. And he has some of the very best quotes. Tolkien is my all-time favourite author. His work means a lot to me, Gandalf means a lot to me, and I'd love to etch a symbol of my love for those two on my skin for all to see.
7. Black Low-heeled Ankle Booties with an Exposed Zip -- ~$75 CAD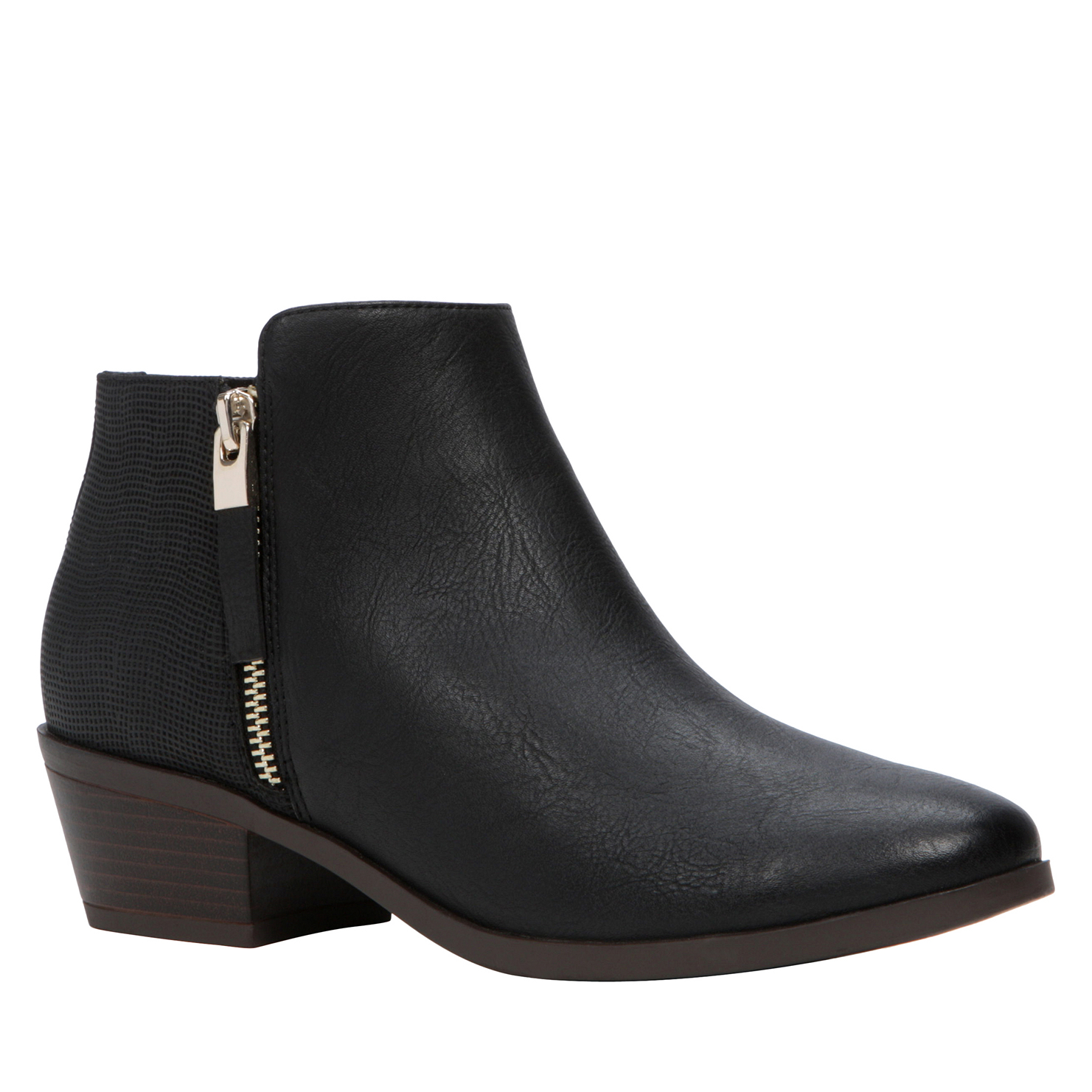 I know, that's really really specific... But I know what I want, alright?! I've actually found a pair or two I really like, one of which is from Payless, but while they are $40 USD online, Canadians can't order from that site, and the ones sold in Canadian stores are actually more like $70, if I'm remembering correctly. =( I do really like them in the black, though. They're pretty much exactly what I am thinking. And then these ones from Spring are also really cute, for $75 CAD.
8. Self-Titled Yellowcard Album -- $13 CAD
Not much to say here. One of the best bands, their last CD ever... They aren't touring to Vancouver, so I'll have to make due with buying the last CD to show my love.
9. Bootie Slippers -- $25 CAD
I'm not too picky, but this is a good example of the type of slippers I'd like. They're just so much cuter and more practical, in my opinion, than slide on slippers. I just feel like they'd stay on the foot better, so you wouldn't need to take them off to curl up and read, and then need to remember to put them back on to wander your house. Plus I think bootie slippers are really cute with PJ shorts. These ones from La Senza are pretty well-priced at $25 and felt really nice when I poked them in-store.
10. Kat Von D Everlasting Liquid Lipstick Collector's Edition set -- $300 CAD
Oh my god. This is beautiful. The packaging. The colours. In some ways, even the price (at $24 a pop, 15 should cost $360, so you get 2 and a half for free)! This beautiful set comes with 15 full-size KVD liquid lipsticks, some of my favourite lip products, including 2 exclusive shades. Ugh, it's gorgeous, the colours are so varied and beautiful, and some part of me says my desire for this set is entirely irrational, but I wants it!
Also, if that's just too insane for your, but you love KVD Liquid Lipsticks, there's a smaller set of minis for $62, which is also a nice deal. You get 8 shades at less than the price of 3 full-size, and each mini is almost exactly half the size of a full-size.
***
Can you tell I'm into shoes right now? Haha! Let me know what's on your Christmas Wish List, or just your regular wish list right now in the comments!
Thanks for reading!